Marine Engineering.
B.Tech (Marine Engineering) - 4 Years
B.Tech (Marine Engineering) course is a course leading to Class IV Marine Engineer Officer Certificate of competency, awarded by the ministry of shipping(Government of India), after six months of sea service, enabling the cadets to become Marine Engineers on board Merchant Navy ships anywhere in the world. This course is strictly residential. All candidates applying for B.Tech Marine Engineering Course also need to appear for a COMMON ENTRANCE TEST (CET) conducted by the INDIAN MARITIME UNIVERSITY (IMU). Please visit the IMU website www.imu.edu.in  for details of this CET.
Marine Engineering Eligibility Criteria:
Educational qualifications:
A pass in Plus-two (12th Standard) or its equivalent, with minimum 60% aggregate in Maths, Physics and Chemistry group and at least 50% marks in English in both 10th and 12th Standard.
Age limit:
Maximum age limit is 25 years at the time of commencement of course.
Medical standards:
Should be physically fit for sea and should meet the medical standards laid by the Director General of shipping.
Eyesight/Vision:
Use of corrective lenses for eyesight is permitted but the maximum permissible limits, at entry, are 6/12 in each eye or 6/9 in better eye and 6/18 in other eye for distant unaided vision. Color blindness is not permitted.
IMU Campuses Intake Capacity at Mumbai, Chennai, Kolkata, Visakhapatnam, Cochin.
PROGRAMME

CAMPUS

DURATION

INTAKE CAPACITY

B.Tech (Marine Engineering)

Kolkata

4 Years

246

Mumbai

40

Chennai

80

Visakhapatnam

-

Cochin

-
Marine Engineering Course Fees:
For Male Candidates: Rs 2, 25,000 per year.
For Female Candidates: Rs 1, 45,000 per year.
Note: Course Fees mentioned here is according to IMU School of Marine Engineering.
Course Fees Varies from one Affiliated institute to another.
List of IMU Affiliated Institutes offering Marine Engineering Course.
International Maritime Institute.
HIMT College (Hindustan Institute of Maritime Training)
Euro Tech Maritime Academy
Coimbatore Marine College
Park Maritime Academy
R L Institute of Nautical Sciences
Samundra Institute of Maritime Studies.
Sri Nandhanam Maritime Academy.
Tolani Maritime Institute.
All applicants to the above undergraduate programme i.e. 4 Year B.Tech (Marine Engineering) need to clear their physical fitness test which is essential for admission as per DG Shipping Guidelines. The prospective candidates are required to produce a medical fitness certificate in the prescribed format issued by a Medical Officer approved by Directorate General of Shipping.
Only unmarried candidates are eligible to apply for 4 Year B.Tech (Marine Engineering).
Candidates desirous of joining this course are advised to apply for Passport before taking admission.
Marine Engineering Career Path: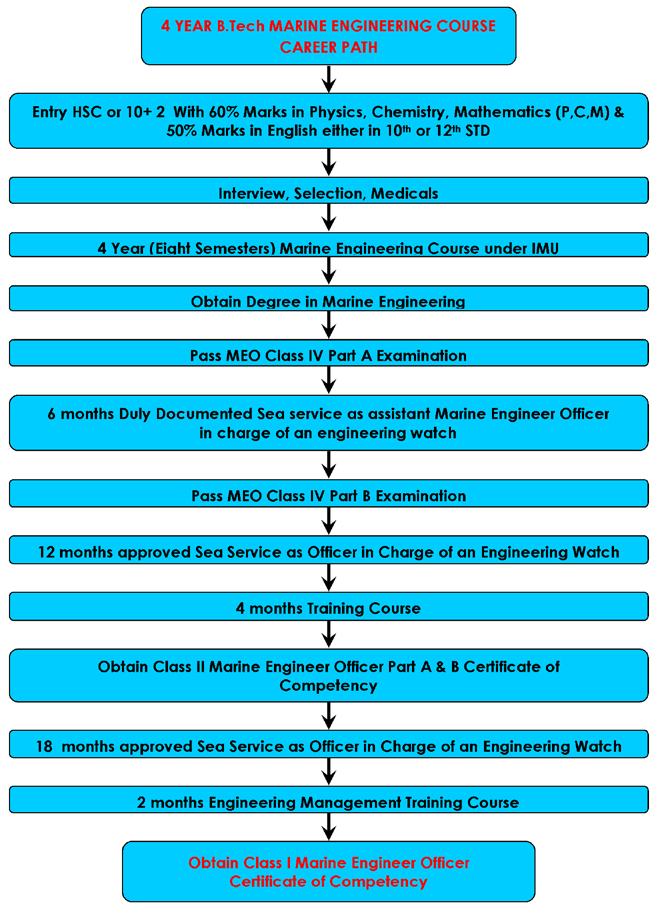 Note : For Getting Admission in Marine Engineering one has to clear the IMU-CET. If the Candidate gets Sponsored before taking admission in the course ,it will be a plus point as there will be a job assurance when the candidate finishes the course.
IMU-CET Entrance Exam Books for Marine Engineering.