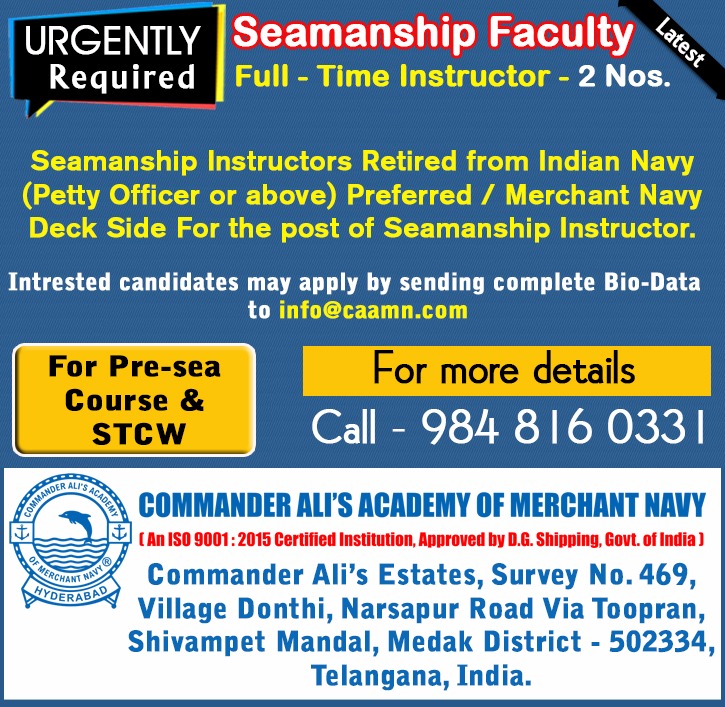 FACULTY OPENINGS @ CAAMN
CAAMN invites applications from Indian nationals, possessing Indian Navy background, commitment to quality teaching and potential for carrying out faculty positions as Seamenship Instructor
APPROVALS & AFFILIATIONS
CAAMN is approved by D G Shipping (Director General of shipping) Govt of India.
WHAT CAAMN OFFERS ITS EMPLOYEES
An environment for growth
Transparency in operations
Performance-based incentives
Skill enhancement
Training and development
360-degree feedback and appraisal system
WHAT CAAMN LOOKS FOR
Integrity
Commitment
Excellence
Self-Motivation
Ambition
Discipline
FACULTY TRAINING & DEVELOPMENT
CAAMN believes in continuously raising and sustaining the benchmark of delivering quality education.
The Institute provides training to faculty in both technical and non-technical areas.
The Institute deploys a 360-degree feedback and appraisal system to identify the competency of each of its faculty. This system is used to develop individual training paths.